PORTRAITS
Portraiture can take on many different forms and mediums. Above are images in watercolor, pen & ink, and digital design - each with a different story and created for a differnt client. All work is created using photo reference, but it is possibile to manipulate images, combine images to add a rowdy dog, or other creative ideas!
Have a Saint you think we should add to the shop? The best way to get it started is to be the first to commission it! Zelie and Louis Martin were officially added to the shop after a friend commissioned the drawing for her husband on their wedding anniversary.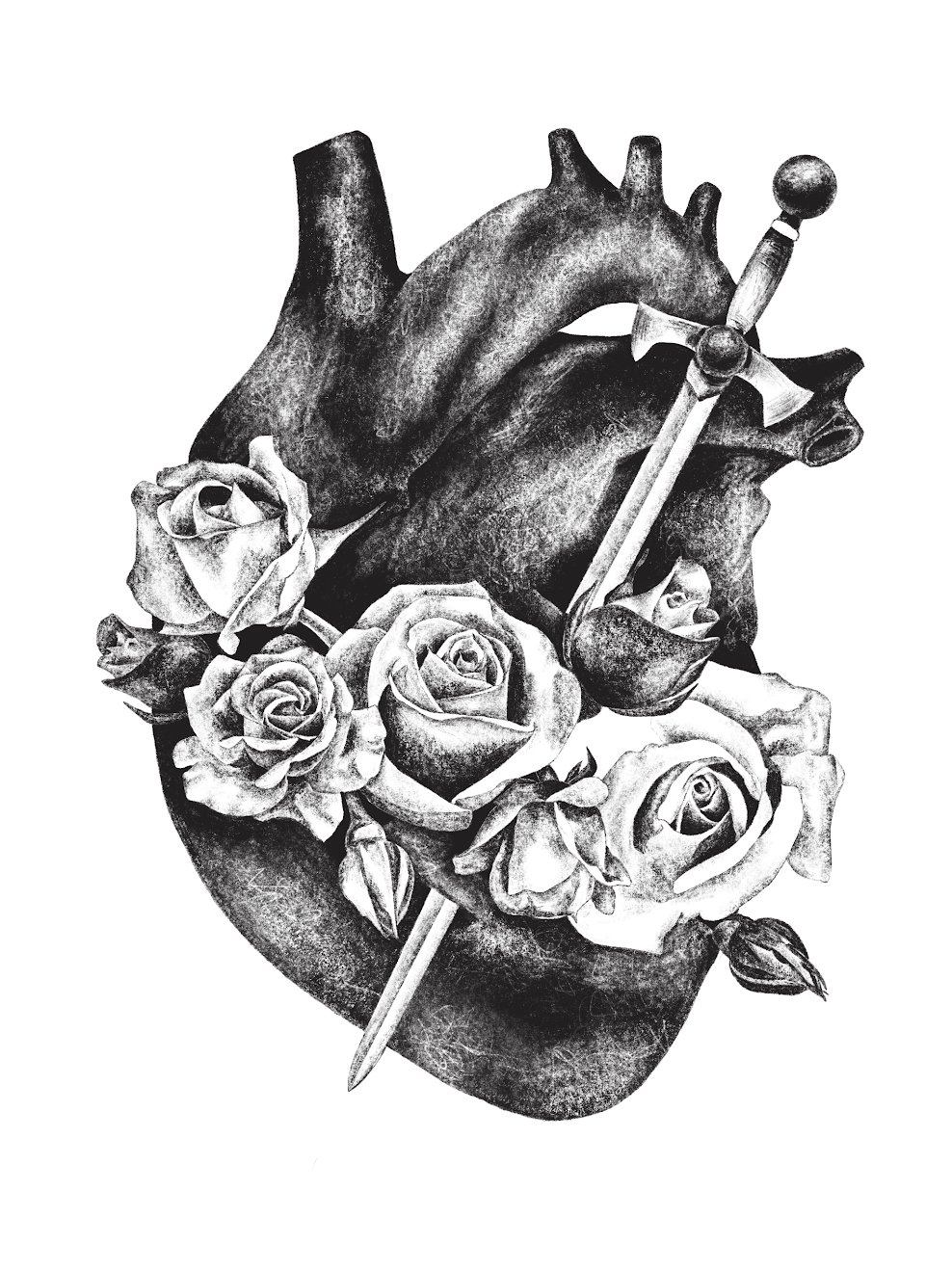 TATTOOS
We are extremely picky about tattoo designing! There has to be an incredibly thoughtful and meaningful idea for us to be willing to draw one for you. Before you ask, make sure you have been thinking and dreaming up an idea for at least a year!
These two holy hearts were created for a priest in the Archdiocese of Oklahoma City. He asked if we'd be willing to help him bring the idea to life in a unique way. After prayerfully considering and hearing him out, we accepted!
FAMILY COMPOSITES
A family portrait can be a keepsake, a constant change as a family grows, or a remembrance piece. There are so many reasons to order a family group portrait and there are so many styles to explore! What type of family portrait do you see being a part of your home?
Family composites can be created from photo reference or with a stylistic approach.
GIFTS & DESIGNS
Nursery art, wedding gifts to your groom/bride or mother-in-law-to-be, a custom sticker design, t-shirt designs for youth groups or girls and guys trips! Sometimes it is hard to find the right artist for your project.
We understand the headache! Let us help!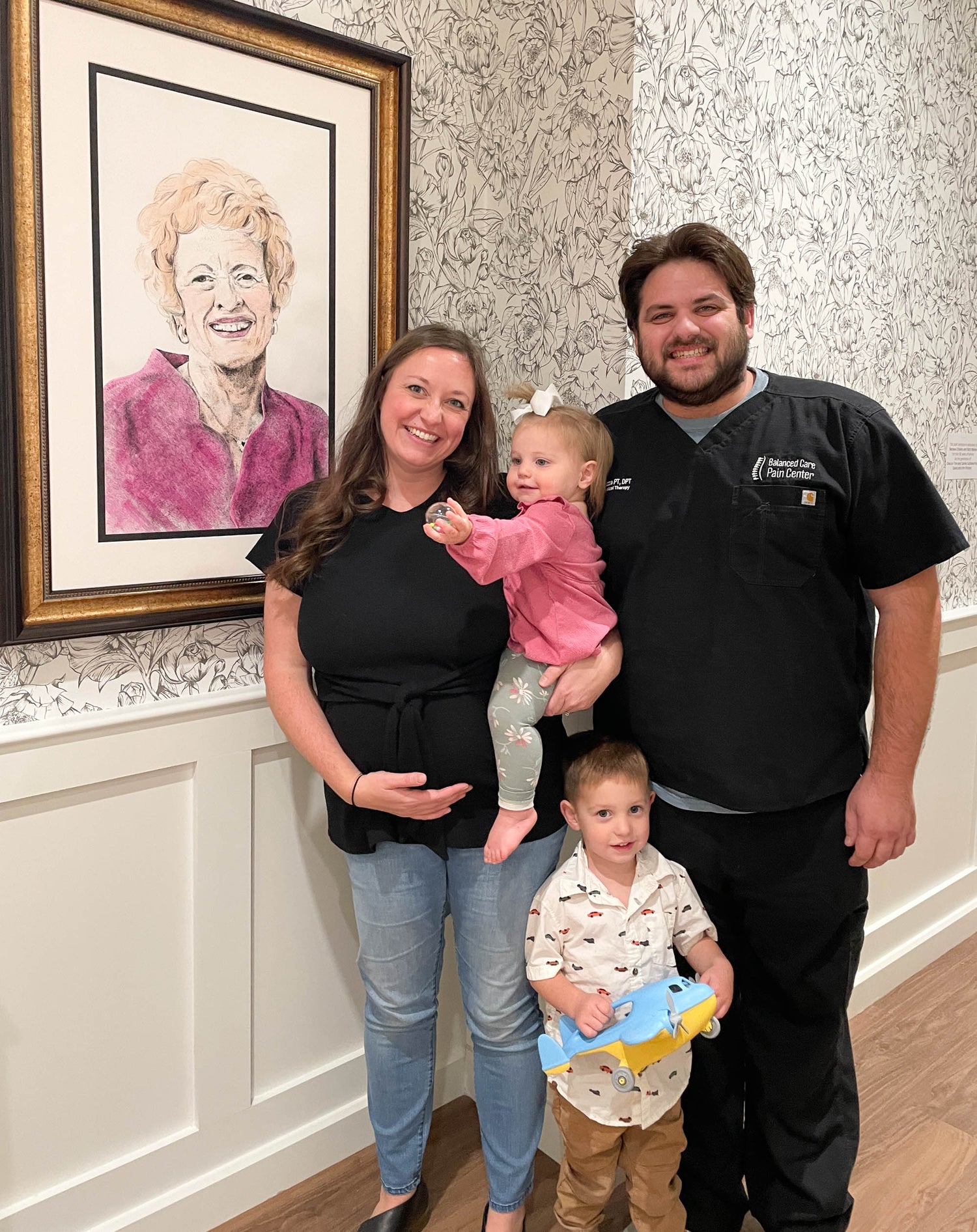 AN HONOR
There's a new home in southwest Oklahoma City that was built for homeless pregnant women and their young children. The Rose Home was named after my late grandmother, Leitner Greiner. Some very important role models of mine asked if I would create a portrait to hang in the new home.
This project is one I was truly honored to be asked to do and will forever be grateful I got to help honor my Nana. She loved the unborn and their mamas so much and influenced me to be undeniably pro-life too!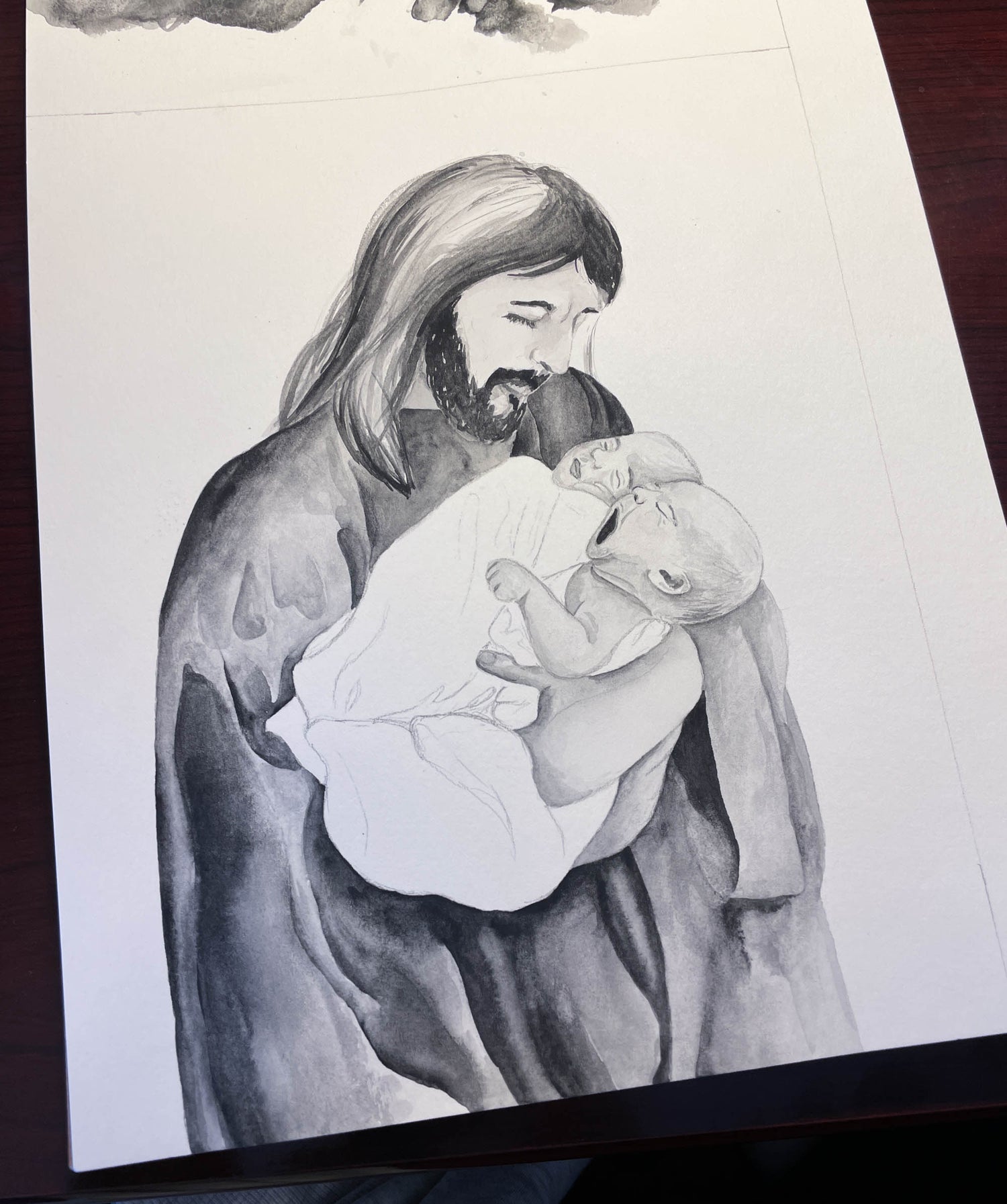 BABIES IN HEAVEN
Stephen and I suffered a miscarriage after our first son was born. In my grief I created a portrait of Jesus carrying our Ellis in Heaven. That portrait helped me through a lot of pain and is one of my favorite images to date.
This portrait was made for a friend of a friend. She and her husband were expecting twin boys and lost them both suddenly, way too early. A lot of commissions are important to me, but when I get to help another parent through their pain my prayers for them and their babies are strong and deep.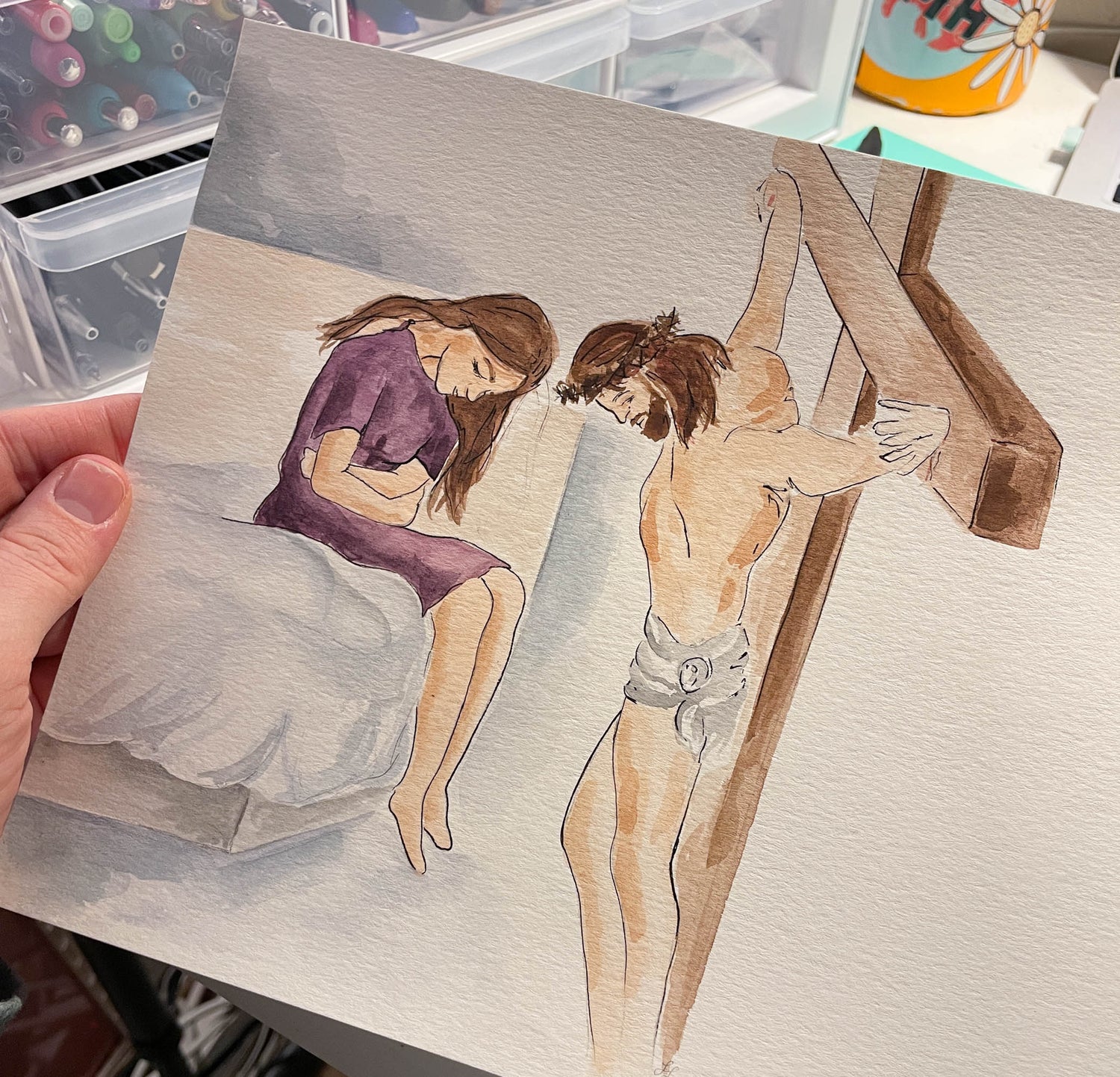 MOTHERHOOD
This mother's full birth story is not mine to share. However, she did ask if I would help bring a vision of hers to life. A mama's postpartum body is sometimes unrecognizable, the pain and change often exhausting. She connected with and had a vision of herself head-to-head with Jesus on the cross. This image helped her through some extremely difficult days and nights and I'm so blessed to know her story and be a tiny part of bringing this image to life.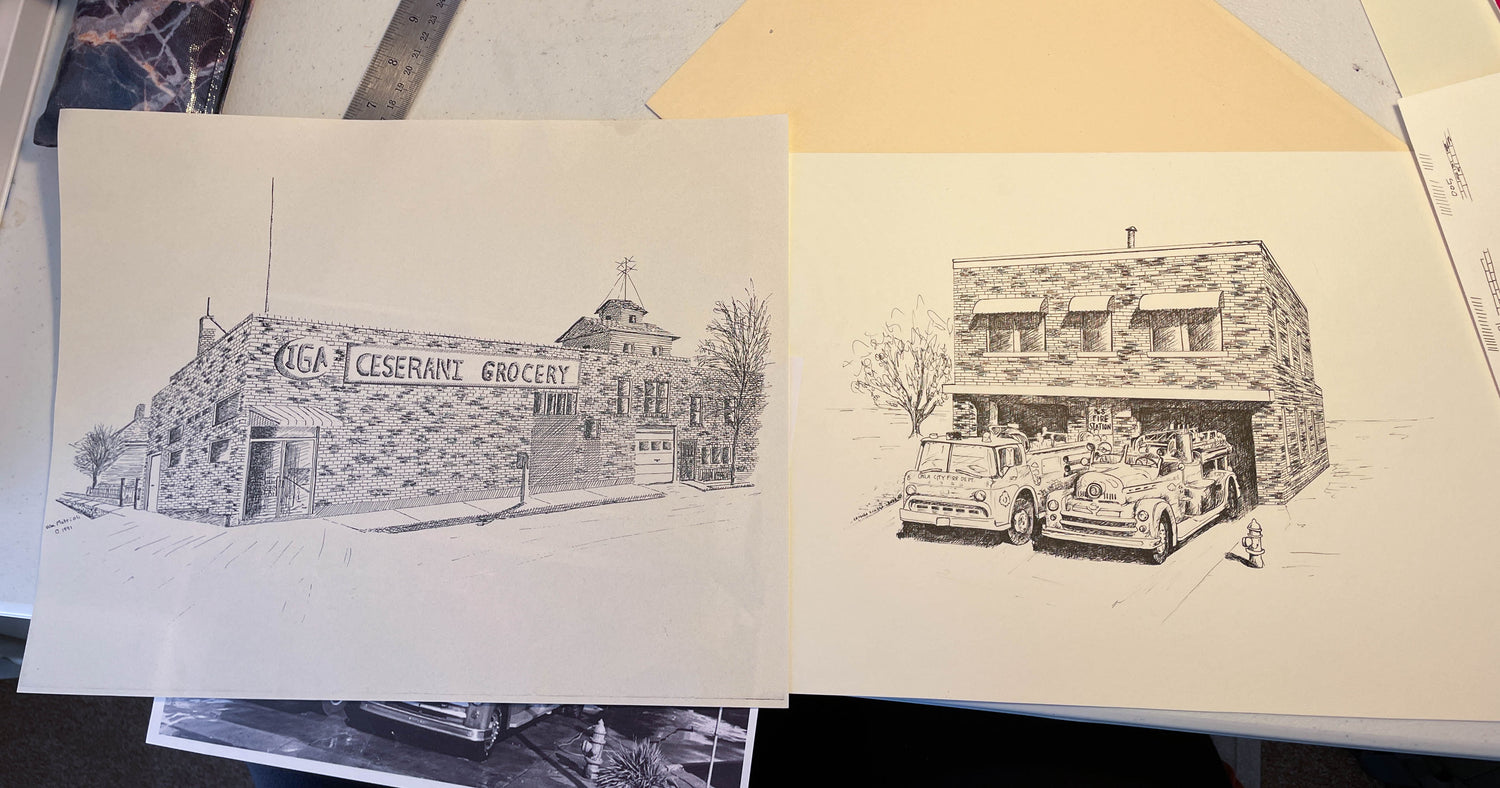 A FAMILY HEIRLOOM
A family friend had an image of a building imporant in the lineage of his family. That image is on the left - a grocery store that his grandfather worked in. His wife had a smiliar photo of the fire station that her grandfather helped to build. She asked if I would try to match the style of the first image so the two could hang as a pair in their home. What a special tribute to family!